ORLANDO, Fla. – The American Council on Education (ACE) announced that Pradeep Bhardwaj, Ph.D., Chair of the Department of Marketing at UCF, has been named an ACE Fellow for academic year 2023-24. Following nomination by the senior administration of their institutions and a rigorous application process, 36 Fellows were selected this year—click here for a full list.
"I'm pleased to see that Dr. Bhardwaj has been recognized as an up-and-coming leader by ACE," said Paul Jarley, Ph.D., Dean of the College of Business. "I'm sure this appointment will benefit his host institution as much as it does Pradeep."
Bhardwaj is the Carl H. Galloway Professor of Marketing and the Doctoral Program Coordinator for the Ph.D. Marketing Track.
"It is an absolute honor to be selected as an ACE Fellow and I am extremely grateful for the support of President Alexander Cartwright, Provost Michael Johnson, and Dean Paul Jarley," Bhardwaj said. "I look forward to interacting with senior leadership, across a wide spectrum of universities, and learning about strategic experimentation and prototyping, under systemic disruptions in the educational industry, and bringing this knowledge back to UCF."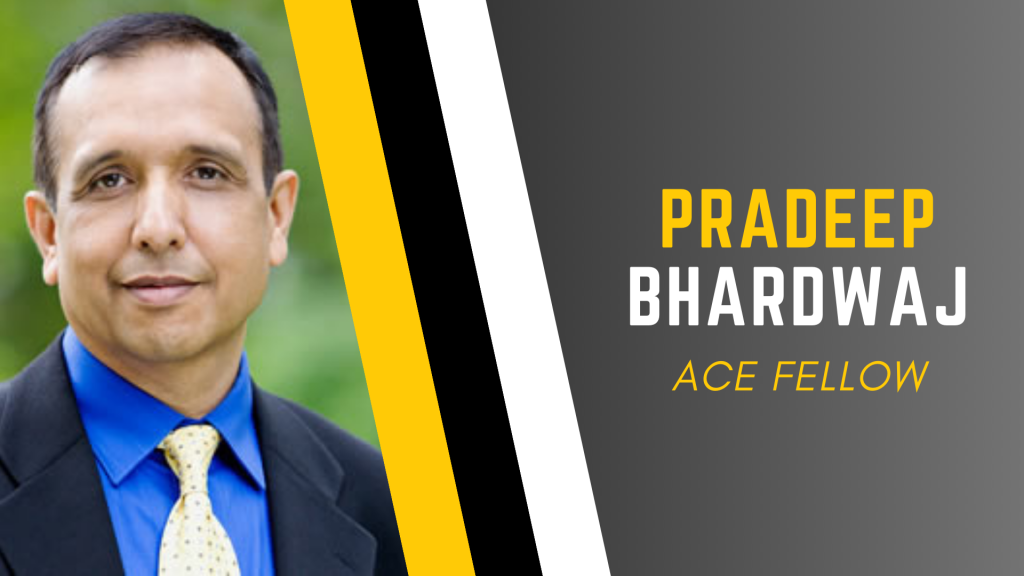 Before arriving at UCF, Bhardwaj served on the faculty at UCLA, UNC-Chapel Hill and UBC Vancouver. In Vancouver, he was the BC Innovation Council Chair in Sales and Sales Management. Bhardwaj earned his Ph.D. from University of Toronto and an MBA from Simon Frasher University, Vancouver. He is an award-winning teacher who has taught at the BBA, MBA and Ph.D. levels and his research has appeared in a variety of publications.
Since its inception in 1965, the ACE Fellows Program has strengthened institutions in American higher education by identifying and preparing more than 2,500 faculty, staff, and administrators for senior positions in college and university leadership through its distinctive and intensive cohort-based mentorship model. Of the Fellows who have participated to date, more than 80 percent have gone on after their fellowship to serve as chief executive officers, chief academic officers, other cabinet-level positions and deans.
"The ACE Fellows Program has a proven track record of developing agile leaders, and it fuels the expansion of a talented and diverse higher education leadership pipeline," said ACE President Ted Mitchell. "ACE Fellows engage in unique learning experiences before returning to their home campuses armed with a fresh outlook and distinct skillset. I am excited to see all that this class accomplishes."
The ACE program combines retreats, interactive learning opportunities, visits to campuses and other higher education-related organizations, and placement at another higher education institution to condense years of on-the-job experience and skills development into a single year.
During the placement, Fellows observe and work with the president and other senior officers at their host institutions, attend decision-making meetings, and focus on issues of interest. Fellows also conduct projects of pressing concern for their home institutions and seek to implement their findings upon completion of the fellowship placement.
At the conclusion of the fellowship year, Fellows return to their home institutions with new knowledge and skills that contribute to capacity-building efforts, along with a network of peers across the country and abroad.
Click here for more information.
About ACE
ACE is a membership organization that mobilizes the higher education community to shape effective public policy and foster innovative, high-quality practice. As the major coordinating body for all the nation's higher education institutions, ACE represents more than 1,700 college and university presidents and related associations. For more information, please visit www.acenet.edu or follow ACE on Twitter @ACEducation.
About UCF College of Business

Established in 1968, the UCF College of Business offers degrees at the bachelor's, master's, doctoral and executive levels. All programs, as well as the Kenneth G. Dixon School of Accounting, are accredited by the Association to Advance Collegiate Schools of Business— AACSB International. The college provides high-quality academic programs designed to give students a competitive advantage in the world of business now and in the future. Learn more at business.ucf.edu.