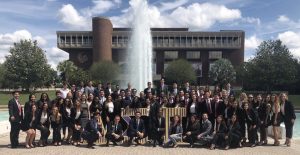 Looking to further herself both professionally and personally, Integrated Business student Savannah Hobbs, attended recruitment for Delta Sigma Pi in Fall 2018 and has been a Brother ever since. Hobbs currently holds the position of Senior Vice President and hopes to better the fraternity by bringing in new ideas and students.
Ever since its founding in 1907, Delta Sigma Pi has been committed to scholarship, building professional and leadership skills, promoting connections between businesses and students and championing higher standards of ethics and civic involvement among its members. As the nation's first co-ed business fraternity, it has grown to almost 350 collegiate chapters with more than 275,000 initiated members.
"My favorite part of being a Brother of Delta Sigma Pi is the community. Delta Sigma Pi has given me memories and friendships that will last a lifetime, as well as a network that can take me anywhere," says Hobbs.
Getting to Know Delta Sigma Pi
What is the vision of Delta Sigma Pi?
Delta Sigma Pi is a Professional Fraternity organized to foster the study of business in universities. The fraternity encourages scholarship, social activity and the association of students for their mutual advancement by research and practice.
How does being in Delta Sigma Pi enhance your UCF experience?
Delta Sigma Pi helps you grow professionally by teaching you valuable skills like developing a strong elevator pitch, interview techniques and a high-quality network. The fraternity can also help you grow personally. Being a part of this professional fraternity allows you to build a community of about 70 Brothers within a university of more than 60,000 students. You can always look forward to having a Brother in your class and someone to study with.
What is something unique that Delta Sigma Pi offers to students?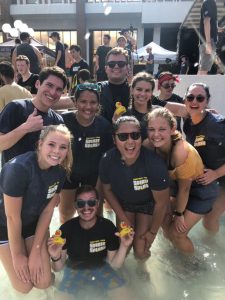 With a network of over 275,000 Brothers worldwide, your network grows significantly. Delta Sigma Pi also has more than 10 faculty initiates which allow the Brothers to continue to build their network through interacting with professors. The faculty initiates, UCF Career Services and our corporate sponsors favor Brothers of Delta Sigma Pi because of the well-polished, professionalism they are known for.
What opportunities, events, and activities does Delta Sigma Pi at UCF provide?
This Professional Fraternity achieves three pillars: Brotherhood, Professionalism, and Community Service. Throughout each semester, there are several events within each pillar. Professional opportunities include company tours, professional trips and networking with our guest speakers. Community service events consist of serving at Give Kids the World and Ronald McDonald House, as well as serving the UCF community. Brotherhood events range from bowling, beach trips and an end of semester banquet.
What companies are affiliated with Delta Sigma Pi? What guest speakers has Delta Sigma Pi had or will be bringing in for students?
Marriott Vacation Club Worldwide and New York Life are current corporate sponsors. In the past, companies such as Under Armor, Nike, SAS, Gartner, Proctor and Gamble, Lockheed Martin and Tom James have presented to the chapter. Brothers have earned internships and full-time jobs with Johnson and Johnson, SAP, PepsiCo, Target, Bank of America, Amazon, Victoria's Secret, Goldman Sachs and Microsoft. On September 9, Disney Corporate is speaking at the recruitment event "Modern-Day Networking." This event is open to everyone in the College of Business.
Connect with Delta Sigma Pi
Instagram: @DSPUCF
Facebook: Delta Sigma Pi- University of Central Florida
Twitter: @dspucf
LinkedIn: Delta Sigma Pi- Theta Sigma
To view a full list of all UCF College of Business Registered Student Organizations, click here.