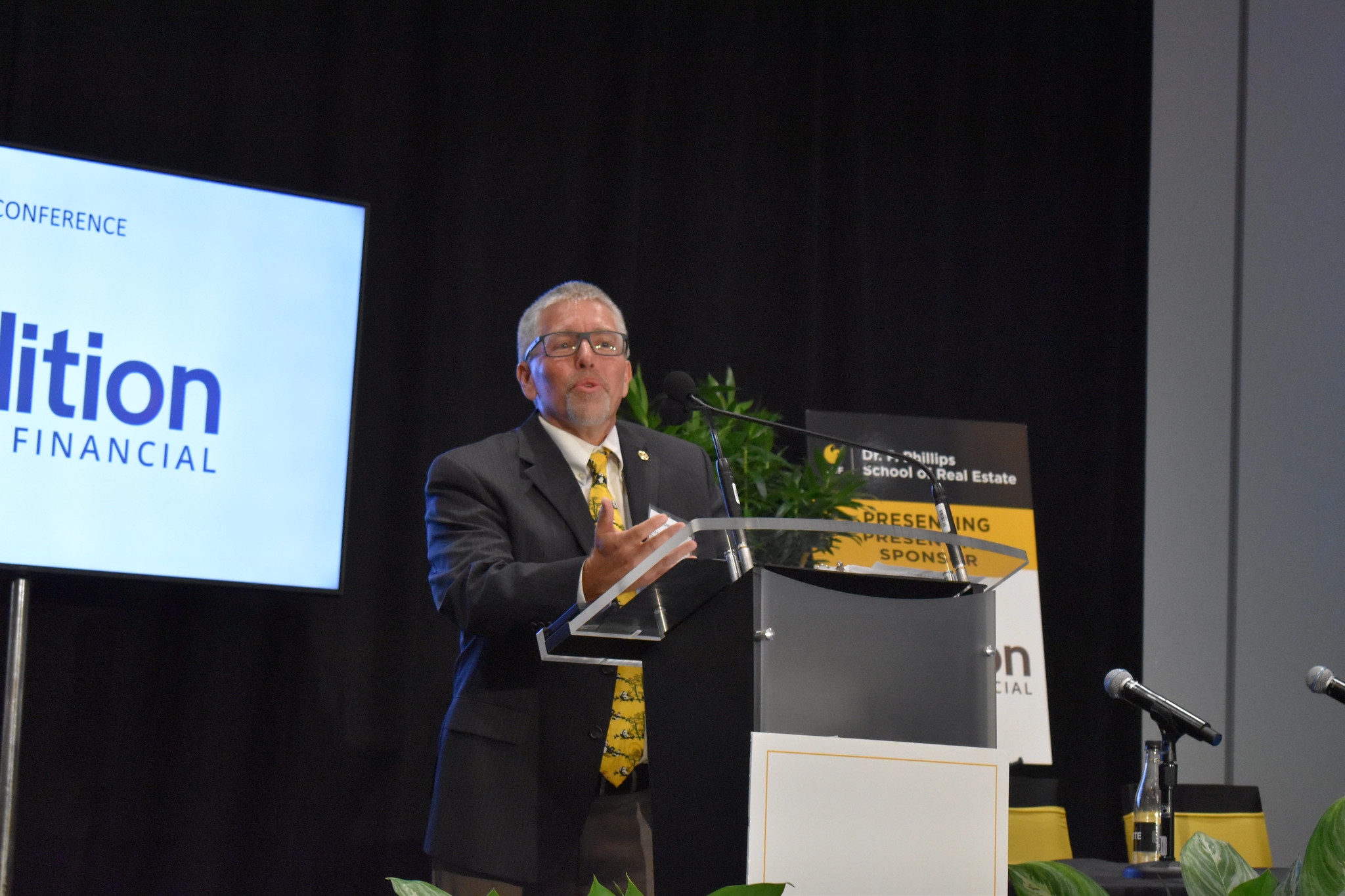 The International Real Estate Society (IRES) recognized UCF Professor and Howard Phillips Eminent Scholar Chair in Real Estate Dave Harrison with the 2023 Achievement Award earlier this month. Harrison, who has been with UCF for eight years, was recognized for his research focused on Real Estate Investment Trusts (REIT), mortgage markets and real estate finance. Harrison's work appears in IRES sister society journals, including the Journal of Real Estate Research and International Real Estate Review, as well as Real Estate Economics and Journal of Real Estate Finance and Economics.
Harrison is regularly requested to present at conferences and speak with doctoral students about their academic career. Previously, Harrison served as President of the American Real Estate Society and Director of Development for the ARES Foundation and has been a faculty member at UCF, Texas Tech, and the University of Vermont.
Harrison's primary research interests involve real estate investment trusts and mortgage markets. He currently serves as the co-editor of the Journal of Real Estate Literature and is the author of more than 60 peer-reviewed journal articles, including numerous publications in leading academic real estate outlets. Harrison's articles have received 24 "best paper" awards and in 2007, Harrison was awarded the William N. Kinnard award by the American Real Estate Society. The award was in recognition of "substantial contributions to the field of real estate research achieved under the age of 40." More recently, Harrison was recognized as the James A. Graaskamp award from ARES in 2019 for "extraordinary iconoclastic thought and/or action throughout a person's career in the development of a multi-disciplinary philosophy of real estate."
About the International Real Estate Society (IRES)
The International Real Estate Society (IRES) is a federation of regional real estate societies that encourages global cooperation on research and education. The mission of IRES is to: (1) encourage communication, cooperation, and coordination regarding real estate research and education; (2) encourage and assist in establishment of real estate education and research programs; (3) encourage research on international real estate topics; and (4) encourage and facilitate faculty exchanges. The federation consists of the American Real Estate Society, European Real Estate Society, Pacific Rim Real Estate Society, Asian Real Estate Society, African Real Estate Society, and Latin American Real Estate Society. IRES annually presents three prestigious awards. Nominations come from individual members of the regional societies and the recipients are decided by a vote of a committee comprised of one representative from each of the regional organizations and one industry representative. Further information about IRES and the names of past award recipients can be found at the IRES website, www.iresnet.net.