by Jasmine Garcia
The results are in, and Team "We Hate I4" brought home the top prize at the Summer 2023 Great Capstone Case Competition on July 14th. College of Business students Parker Brown, Nicholas Carroll, Christian Garcia-Cobian and Ryan Scism collaborated on an innovative proposal for building a Dollar General distribution center in Mexico. Thanks to the competition sponsor, NewsDay USA, each team member was awarded $250 in scholarship funding.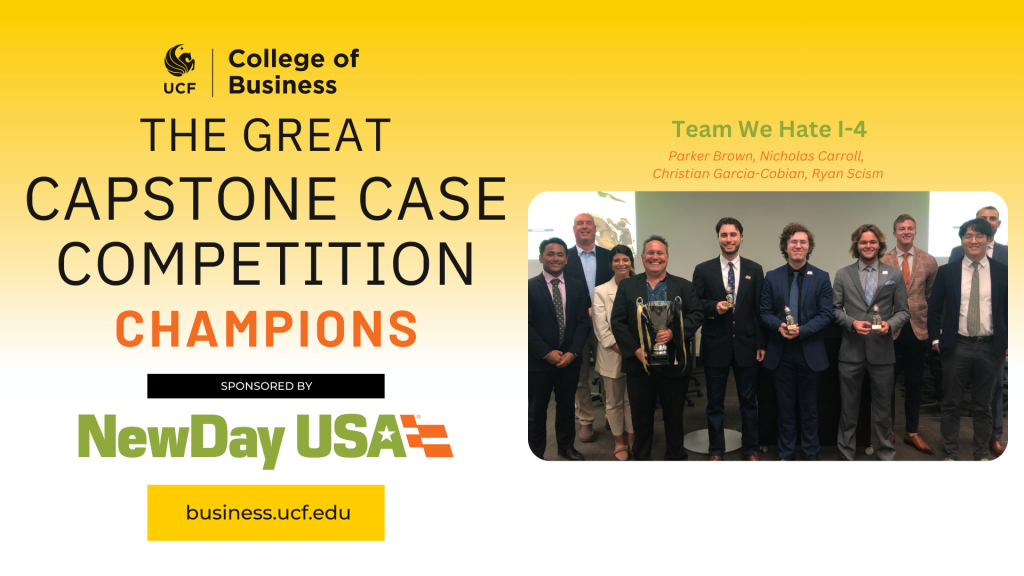 "I think what got us through was our understanding of the underlying philosophy of why Dollar General does what they do in operations," said team leader Scism. "We were able to answer a lot of their questions with confidence. We had a core understanding of their offerings and that's what got us through. I can safely say, of all teams I've worked with through the Integrated Business program, this team was the most on it. There was never any downtime thinking about what to do, we just did it, and if it didn't work out, we just restarted from zero until it worked out."
The Capstone course provides the opportunity for students to collaborate and further develop their analytical, communication and teamwork skills. In this competition, students can present inventive proposals for modern real-world business issues as part of their final coursework. The panel of judges included NewDay Vice Presidents Nicholas Barth and Jaehan Kim, as well as Full Sail University's Christopher Woodward. 
"The Capstone course is taken by every College of Business student, so all the students on the 12 teams who made the semifinals should be very proud of their work," said Christopher Leo, associate lecturer of the Strategic Management course. "Of course, we also need to give a big thank you to our amazing sponsors NewDay USA who made this competition possible. Our students pitched real-world solutions to NewDay USA and showed all they've learned through the semester." 
Team Ninja Turtles (Collin Amoah, Audrey Davis, Boris Diaz, Chase Fagan and Tabatha Toner) finished second, earning $150 each. Team Zophres (Casey Carns, Christian Matsell, James Raulerson, Noah Tisdale and Carson Zophres) finished third with each student taking home $100.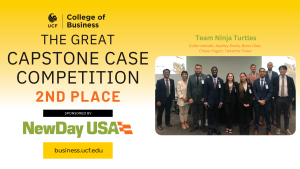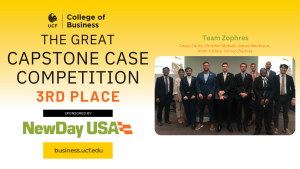 The winning team was presented the Nichols Cup, named in honor of longtime Capstone instructor Gary Nichols '87. The team's lab instructor, Lonny Butcher, will keep the trophy until the next competition.