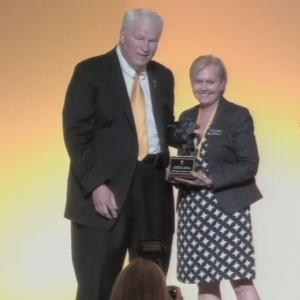 ORLANDO, Fla. (April 4, 2018) – The College of Business added another Pegasus Professor to its ranks Wednesday as the University of Central Florida celebrated Founders' Day Honors Convocation at the Pegasus Ballroom. Gordon J. Barnett Professor of Business Ethics Maureen Ambrose became the college's third Pegasus Professor, the university's highest academic honor, joining colleagues Robin Roberts (Accounting) and Robert Folger (Management). 
"I think the award is really shared across the Department of Management, because it's a reflection of the quality of the department that we've developed. I like to say that we have the best management department in the country and I believe that," said Ambrose, who received the award for her 20 years of service, outstanding research, teaching and overall efforts to improve the department. "My colleagues are incredibly smart, creative, productive and also genuinely nice people. We care a lot about our doctoral students and we're very hands-on in terms of doctoral training."
President John C. Hitt and Interim Provost Elizabeth Dooley presented awards to 10 faculty members who were recognized for their exceptional teaching, research, professional service and dedication. Accounting major and College of Business Student Ambassador Harsh Parekh was recognized with a Student Founders' Award.
While finishing his degree at UCF, Parekh has explored a variety of volunteer opportunities and accepted a position with Siemens in 2017. He is also President of UCF's BAPS Campus Fellowship, a student-led organization that teaches students about Hindu culture, and a member of Beta Alpha Psi, an accounting society for students.
"My piece of advice for students is to always be genuine; that's the first characteristic people need to have," Parekh said. "Doing things with integrity and discipline is also important to me. Coming from an Indian culture, we strive to get things done without shortcuts. So I try to do everything with discipline and integrity to uphold that sense of accomplishment."
Congratulations to all honorees from the College of Business:
Excellence in Undergraduate Teaching
Ann Marie Whyte, Ph.D.
Yael Zemack-Rugar, Ph.D.
Excellence in Graduate Teaching
Excellence in Research
UCF Reach for the Stars Award
The Pegasus Professor Award
Recognition of Service to the University, 20 Years of Service
Lauren De George, Ed.D.
Pradipkumar Ramanlal, Ph.D.
Robin Roberts, Ph.D.
Verner Scott Smith
Ann Marie Whyte, Ph.D.
Student Awards – Founders' Award
Retired and Retiring Faculty
Vicky Arnold, Ph.D., CPA
Marcye Hampton
James Keebler, Ph.D.
Richard Quinn
Steven Sutton, Ph.D.