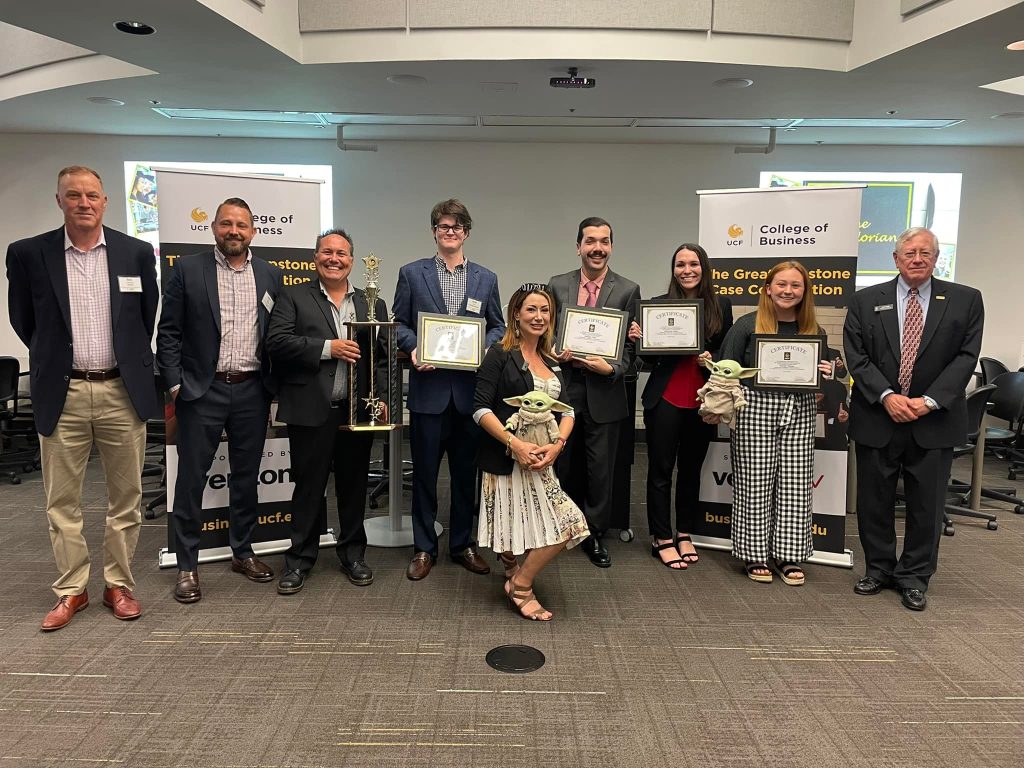 MAN-dalorians Team Wins $3,500 from Verizon for Customer Service App Idea
By ERIKA HODGES
Business Knights and Baby Yoda made a winning team at this semester's Great Capstone Case Competition. The MAN-dalorians team, featuring members Katherine Cueto (Integrated Business), Jack Boos (Finance), Hannah Thomas (Marketing) and Kenneth Colón (Accounting and Finance), earned first place and $3,500 on April 29 with their idea for an integrated customer service app for Verizon customers.
Each semester the Great Capstone Case Competition challenges students to develop strategic recommendations for real-world business issues as part of their final coursework. This spring students proposed a "best-in-class customer service solution" to local Verizon leadership.
The MAN-dalorians pitched an integrated mobile and web application, called Array, to judges from UCF and Verizon that provides a convenient, comprehensive and centralized customer service solution for all Verizon products in one place. Colón, who served as the team spokesperson, says Array is designed to give customers real-time updates on support tickets.
"After identifying that accessibility, ease of use, and variety of services were the three major pain points for customers, we thought of an app for its convenience and accessibility," Colón said. "Using the catchphrase 'there's an app for that' as a guide, we realized there wasn't an app exactly for what we wanted to accomplish, and thus Array was born."
And the name the MAN-dalorians, well, that was inspired by lab instructor and coach Lonny Butcher.
"Lonny mentioned some ideas for team names and how he really liked Star Wars. We all talked about how much we liked Star Wars, too, specifically Baby Yoda in The Mandalorian on Disney Plus," said Colon, who graduates this Friday. "We quickly noticed that the class abbreviation was MAN so, naturally, it didn't take much for the MAN-dalorians to be established as our team's name. Lonny didn't even notice the pun until four months in!"
Butcher said he was proud of his team's performance but refused to take any credit for their success.
"This was a prime example of knowing when to step aside and let the students do what they do best," Butcher said after hoisting the trophy FIFA soccer style.
Sponsor Verizon is a longtime supporter of the competition and the college.
"We enjoy putting the business case together, it's something we do all the time," said Bob Wheatley, Director of Finance for Verizon. "But being able to work with the students and see the incredible talent coming out of the university is inspiring. And it's a good chance for us to interact with the students. We're always recruiting top talent, so we get a lot of value from it as an organization."
Alison Gilleland, Cynthia Kurniawan, Peyton Moffit, Luke Shanks and Cameron Ory of Team 6 [Didn't Pick a Name] earned second place and $2,000. They were coached by lab Instructors J. Alan Bennett and YoonJin Choi.
Scott's Tots finished in third and team members Savannah Hobbs, Kenny Reiss, Isabel Antelo, Alana Kressu and Scott Wolfe took home $1,000. Scott's Tots was coached by lab instructor Jamie Vingoe. The Cap Stone Team of Jeremy Botill, Markus Bowers, Alessandro Liguori, Amanda Nohuchi Potiens and Gayatri Ramesh, coached by lab instructor Nhu Nguyen, picked up the Gary Nichols Excellence Award in honor of the late Gary Nichols '87. The longtime management instructor regularly taught the strategic management capstone course and was known for his passion for teaching and for inspiring his students.
The Capstone course gives business students the opportunity to work as a team, strengthen their analytic, communication and teamwork skills and present a plan to faculty members who select the teams that will compete in the competition.
"I have loved being part of the team that makes Capstone the amazing experience that it is." said Dr. Amanda Main, Lecturer of Management, who hosted the competition. "It's incredible to watch these students interact with a corporate client and be able to show that project on their resumes. The capstone competition really demonstrates the high quality of the UCF College of Business and its students."