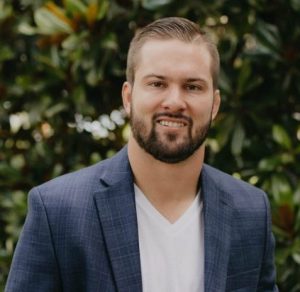 Tyler Wright, a 2015 UCF alum, began a career in sales following his graduation, but always knew he wanted to harness his entrepreneurial mindset and create something of his own. When he wasn't working, Tyler used his free time to learn and make intentional financial decisions that ultimately led him to a seven-figure income at 27.
Today, Tyler is passionate about sharing his valuable knowledge and ideas with his audience of over 150,000 followers across his social media channels. He has devoted his focus to helping people better their finances, invest in Real Estate and lead more fruitful and fulfilling lives.
We connected with Tyler to discuss his time at UCF, how his degree has shaped his career and why he chooses to give back to UCF.

When did you graduate, and what was your major in college?
I graduated in Fall 2015 with a major in Finance and two minors in Marketing and Sports Business Management.
Why did you choose to attend UCF?
I grew up in Florida and saw UCF as a school that was, at the time, up and coming. Of course, it was already a large school, but I saw it as a forward-thinking institution with many fresh perspectives and new ideas. I also liked the idea of being in Orlando for future job prospects and potentially staying there to start my life.
How has your UCF degree helped in your career?
My degree allowed me to meet many people who ended up integral to my success. I landed my first job at a UCF career fair. The person I met was also a UCF and Sigma Chi alumnus, which led to my first job. I stayed at the job over the next seven years, and that position allowed me to build a large amount of wealth fast, which led me to the next stages of my life as an investor and entrepreneur.
I also was a part of the Sports Business Management Minor. I had two professors in those classes, Dr. Keith Harrison (Doc) and Scott Bukstein. Their program sought not to teach for the sake of learning but to learn for the sake of taking action. We learned countless valuable lessons throughout that program and got many opportunities to speak to some incredibly successful people in the world of Business and Sport. There were many classes on personal and business brand building, and I feel those courses helped me in what I currently do on social media.
What extracurricular activities were you involved in at UCF? 
I was a part of many clubs, including the Investing Club, and also held a very active role in my fraternity, Sigma Chi, at UCF. I had many chair positions in the fraternity and eventually became president. This allowed me numerous invaluable experiences of meeting with other leaders at the school to promote a sense of community, community service and philanthropy.
What is your favorite UCF memory?
I have so many incredible UCF memories. One of my favorite memories was working with another fraternity to host a Greek-wide flag football tournament where we raised thousands of dollars for Florida Abolitionist, a company whose goal is to fight human trafficking.
Also, during my time, there were many incredible sports memories. I was there when we went 12-1 and beat Baylor in the Fiesta Bowl. I was also there when we went 0-12 in 2015, and then just two years later, we went 13-0, finishing the year undefeated by beating Auburn in the Peach Bowl. Being at that game with all of my friends from college was a memory I will never forget.
What advice would you give current students?
My advice to current students would be to focus on being present with your friends and loved ones while in college. Life post-graduation is incredible, but it is very different. College is typically the first time in your life where you are out on your own in the "real world." You will never have this much "free time" again. So make the most of it.
Get out of your dorm room or apartment. Join communities that fit your interests, whether that be clubs, Greek life, or other student organizations. Go to sports games and homecoming events, and experience everything you can. Meet people, have fun, and get outside of your comfort zone.
The people you meet in college will likely be the ones that get you your first job and help determine the trajectory of your life. Be smart, take chances, be creative, and chase your dreams. You are young. You have time to figure out life. But you do not have the time to re-live these incredible years. Focus on experience and understand that during these 3-5 years, you are setting the habits and systems that will determine how you live the rest of your life. Start deciding where you want your life to go and ask yourself what habits you need to set to get there and start living them.
About your career:
What do you do?
I worked in healthcare staffing sales for seven years. During that time, I focused on raising my income as much as possible and investing in income-producing assets like stocks and real estate. As a result, I went from zero dollars at 22 to a net worth of $1.5 million by the time I was 28.
At that time, I began sharing everything I had done and learned over the last six years through social media. I helped people learn how to better their finances, invest and build wealth faster through stocks, real estate and online business. Over the last two years, that social media account on Instagram has grown to over 85,000 followers, and I also have 60,000 followers on TikTok and 17,000 followers on Twitter.
After getting married in March 2022, due to the net worth and passive income I had built up, in addition to wanting to chase my passion of helping others better their lives, I decided to quit my job and go full-time on social media.

Why do you do what you do?
I do what I do because of a concept called Ikigai. Ikigai is a Japanese concept that essentially allows you to choose a profession based on four factors. The four factors are what you love, what you are good at, what the world needs and what the world is willing to pay you for. I love leading, teaching, coaching, and helping people live their best lives and improve their finances. These are also things that I am good at, which is a great need for the world.
Unfortunately, only 24% of millennials consider themselves to be financially literate. In addition, only 50% of people are reported to have $1000 in cash to use in an emergency. Also, 50% of people are reported to have little to no savings for their retirement. And unfortunately, these kinds of statistics go on and on and on. And this is why I do what I do. I may not be able to fix the statistics above entirely, but I love being able to impact people's lives directly and know that I am making the world a better place.

What do you like most about what you do?
I tell people I do two things concerning personal finance/investing. First, I help give people the information they need to be successful. But I also give people the INSPIRATION they need to be successful. Everyone thinks there is a magic cheat code to having success. And yes, you need to know many specific strategies and techniques. But just as important as the information is the inspiration and self-belief.
As I go through my programs, the thing that typically brings me to tears is when someone finally realizes they have control over their life. They shift from, "That person who did this awesome thing is way smarter than me, so I could never do that," to "That person may be smart, but at the end of the day, they are just a person, and if they were able to accomplish that incredible thing then that means I can too."
I've seen people making $40,000 a year get offers for $90,000 a year within three weeks. What changed? Maybe a few techniques to get noticed by the right people and companies. But their experience hadn't changed. They hadn't received any crazy certifications in the past three weeks. The main thing that changed was their self-belief and realizing their true worth. So that when they received the correct information, they believed in themselves enough to take action and change their life. So, my favorite thing about what I do is helping people realize how smart, strong, and powerful they already are and giving them the push they need to take action to better their lives.

About the UCF College of Business
Established in 1968, the UCF College of Business offers degrees at the bachelor's, master's, doctoral and executive levels. All programs, as well as the Kenneth G. Dixon School of Accounting are accredited by AACSB International – the Association to Advance Collegiate Schools of Business. The college provides high-quality academic programs designed to give students a competitive advantage in the world of business now and in the future. Learn more at business.ucf.edu.