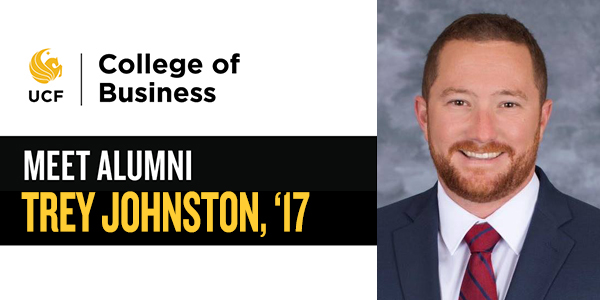 By Kara Turey
This month's UCF College of Business Alumni Spotlight is Trey Johnston. Earning his Bachelor of Science in Information Technology from the University of Phoenix, after serving our country in the military, he held an internship at Lockheed Martin during the afternoons following classes for his Professional MBA (PMBA) degree. Mr. Johnston is currently working as a Procurement Analyst Supervisor for L3 Harris in Brevard County and is our Alumni Spotlight of the Month.
After graduating with a Bachelor of Science in Information Technology, Mr. Johnston knew that the world we live in was complex and on the move. He wanted to stand out as a candidate when he applied for jobs, not only because of his military background but also because of earning an MBA from a reputable university. He knew an MBA from UCF would allow him to do just that. "A graduate degree has helped me stand out as someone who has more critical thinking skills than others. A higher-level understanding of consequences and overall decision-making consideration" said Johnston.
Besides the close proximity of UCF to his home, the PMBA program was attractive to him because it was full-time and 12 months long. He knew he could do this program quickly, learn a lot of information, and have real-world experiences in a cohort setting. The real-life situations and experiences that the group brought to the classes were helpful and something he had not seen in his undergraduate years.
The schedule of the PMBA program was demanding so there was no time to be involved in any on campus organizations, however, he did participate in the UCF Lockheed Martin College Work Experience Program. This program, also known as CWEP, allows undergraduate and graduate students to work in an internship at Lockheed Martin while attending school. Gaining valuable experience in the area of supply chain function, he found this to be a great interest of his and pursued this as a career. After 9 months of internship and 18 months full-time work at Lockheed, Johnston knew he had the experience and knowledge needed to be hired in a full-time position at L3 Harris. Along with this new role and the new company, came a raise and promotion.
One of his favorite memories of the program was the supply chain game. Watching how a product makes it from the beginning to the end and then what happens along the way and when delays happen. Johnston says that the whole class was involved and made them pay attention more than they might have in a lecture-type format.
The PMBA program is in a cohort model and the group stayed together and rotated as a group each semester. The group was close knit and continues to be today. Johnston says it was a very diverse group of people in corporate roles, union trades, and an Active Duty military classmate. In addition to a great cohort in his PMBA program, the faculty were also amazing. He said that they were great in their communication and always making them feel important. The support staff was wonderful as well and they always took the time to answer and talk to the students regarding any topic, including questions about financial aid, schedules, etc. This is only seen at universities that are student-centered, like UCF.
Johnston learned a lot in his PMBA program but two huge takeaways were strategic thinking and risk assessment/mitigation. He says, "I constantly find myself taking in-depth looks for decisions to weigh both risks and possible risks while thinking about the strategic direction it will take us. I relate it to chess, I no-longer react in the near-term when making decisions, and ensure I take the time to weigh the long-term actions and reactions that may come with each possible decision." This is important for a successful business person, to learn that the long term decisions are more important than the present.
Johnston's role at L3 Harris as a Procurement Analyst Supervisor allows him to use the information he learned in his management course. Learning about group behavior and thinking, he often thinks back to these lessons on how to lead and drive an innovative culture among his employees.
Johnston leaves us with advice, "If you're on the fence about applying to this full-time program, do it. As noted, the schedule is demanding, and leaves little time for full-time employment; the benefits that come with this full-time schedule and the relationships you build during this time make it well worth the 12 months. It will help catapult you ahead of your current peers and will allow you to shine brighter in your future job interviews. Take the leap!"
Johnston's degree from UCF and his position at L3 Harris makes him an outstanding UCF Knight! Go Knights!