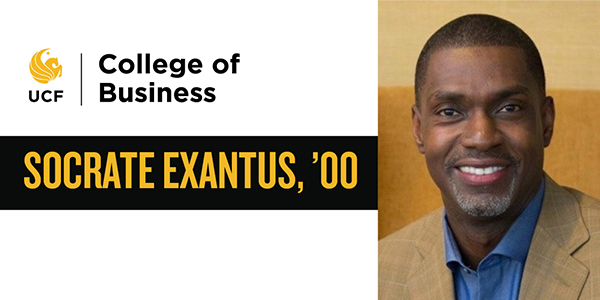 Socrate Exantus '00 is a successful entrepreneur, business owner, Amazon best-selling author and world traveler. Yet his passion for learning – and real estate – continues to grow. Already a licensed real estate broker and instructor, the energetic UCF alum is pursuing his Professional MSRE at UCF. Exantus is the CEO and owner, along with wife and fellow Knight Cassandra, of All County CFL Property Management, which has four locations in Orlando, Lake Mary, South Florida and Jacksonville and manages more than 2,400 homes. As a real estate asset manager, Exantus works with both real estate institutional investors and property owners to effectively manage their properties from acquisition to their disposition strategies.
"After completing the Professional MSRE, I plan to use my experience in real estate and asset management, executive leadership and project management to become a developer," Exantus said, noting he'd also like to teach at the UCF College of Business.
Socrate decided to attend UCF after he received a scholarship in the UCF Engineering program. While at UCF, Socrate was involved in the Orientation Team (O-Team), where he delivered campus tours to prospective students and their parents. This experience opened the door to the world of public speaking. Shortly after graduating, Socrate met Cassandra while she was completing her degree at UCF.
After graduating from UCF in 2000, Socrate worked in the Telecommunications industry for 14 years, where he was a Director of Operations. He has a degree in Management Information Systems from UCF and holds a master's in Project Management from George Washington University. He continues to give back to UCF serving as a regular speaker at The EXCHANGE in the College of Business and as a board member for the Integrated Business program. In 2019, the college awarded him the Entrepreneurial Award at its 2109 Hall of Fame celebration. He and Cassandra were named Amazon Best Selling Authors for co-authoring the book Find Your Hedgehog and STOP Working.