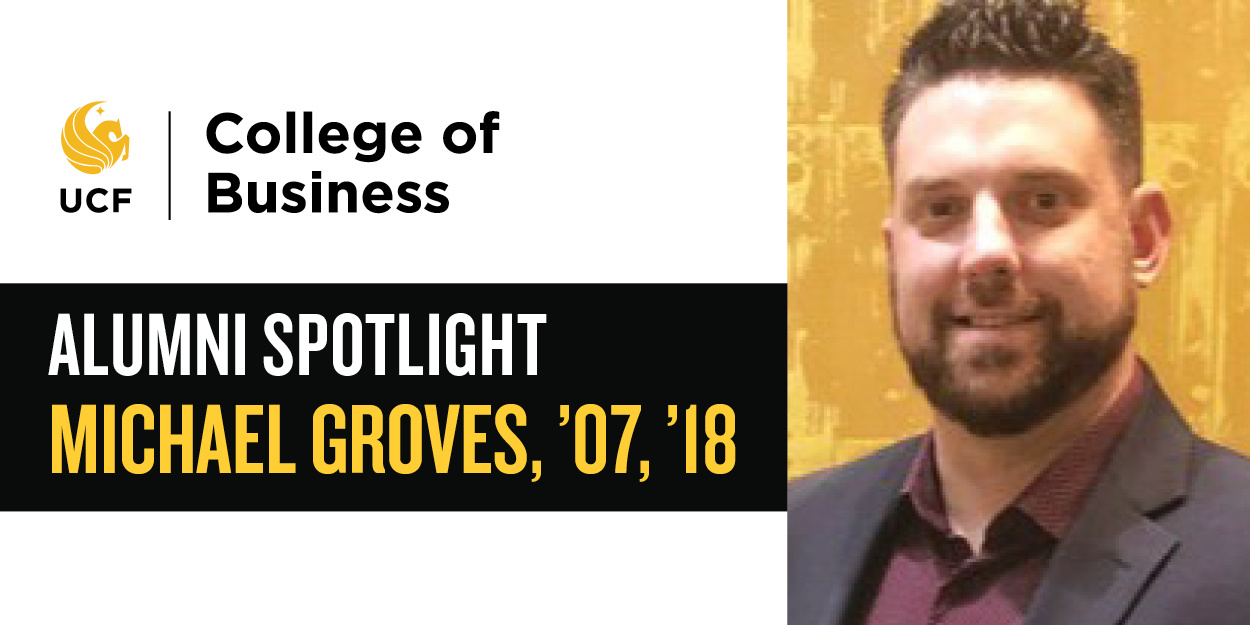 By Kara Turey
With three years in leadership development and a desire to focus on employee talent and organizational development, Michael Groves decided it was time to go back to school. He found UCF's Professional Master of Science in Management, Human Resources Track (PMSM/HR) program to be the perfect fit. He earned his master's degree in 2018 and now has a leadership role at Synergy Interactive as a staffing consultant. Michael is our Alumni Spotlight.
In 2015, Michael Groves was looking to join a new leadership department at AT&T, but after multiple interviews and a self-assessment of his skills, he realized he needed more knowledge in certain areas. Since his company would pay for a Master's degree, he began looking for a program to help him fill in those gaps. His decision came down to two programs: An online program through Georgia Tech and an in-person cohort at UCF. He knew he needed face-to-face instruction where others would hold him accountable, so his decision was easy. He enrolled at UCF.
Balancing a 20-month program with working full-time as a District HR Consultant for Automatic Data Processing (ADP), school and family life was no mean feat. Not only was he coaching youth basketball at the time, but he and his wife welcomed twins while he was in the program.
The cohort started with team-building exercises and taking a behavior and personality assessment called the DISC to help identify groups who would work well together. Out of those groups friendships and professional networking opportunities developed.
Groves said his favorite courses were Conflict Resolution and Negotiations, and Applied Strategy and Policies. In the negotiations course, Groves and his cohort worked on interactive case studies, role-plays, decision making and negotiating skills. For the Business Strategy capstone project, he and his classmates gained valuable experience in SWOT analysis, marketing strategies, competitive markets, foreign and domestic strategies, and more.
Groves said he was impressed with the care and interest faculty showed students, often taking time to meet with them before class or staying on campus after class to discuss projects and provide feedback on what they were learning in the classroom.
Groves credits the UCF Master's degree program with not only teaching him about the HR industry but also helping him find work-life balance. At the end of his program, he left his job at ADP with the confidence he had the skills and knowledge to compete for higher level positions. He joined Synergy shortly after graduating and said the lessons he learned in business law, strategy, applied research and change management, gave him insights into his new business territory. It really paid off when he was named to Synergy's President's Club (Top 100 in the nation) for his first fiscal year.
In his current role at Synergy, he is responsible for managing an offshore recruiting team of eight people in India. He is also responsible for interviews, training, business development and tracking employee performance. Groves says, "I have been lucky to experience the corporate culture with Fortune 500 companies, as well as an established startup, where I can provide ideas and feedback based on many case studies and information gathered during the cohort."
While Groves has many takeaways from the master's program, one of the most important is that having the right employees in a company is crucial. Many companies feel they are successful when they have financial capital, but Groves feels it is more than that.
"Without employees proficiently fulfilling their duties," he says, "a company cannot have sustainable profits or growth."
How has your UCF graduate degree helped in your career? How has it set you apart from your colleagues/peers?
The graduate degree has given me the knowledge and tools needed for career growth and persuading my leadership teams with ideas to grow the company. Along with my work ethic, I have been given the opportunity to take on multiple responsibilities and provided YoY (Year over Year) growth results.
What advice do you have for future students?
During our cohort, multiple students withdrew from the program. My suggestion is to make the promise to yourself that you will give your all during the 20 months and complete the program. You will build personal and professional relationships and be provided the knowledge and experience to benefit your companies and your family.
We wish Michael the best of luck as he continues to climb the corporate ladder and thanks for being a great UCF Alumni Spotlight! Go Knights!