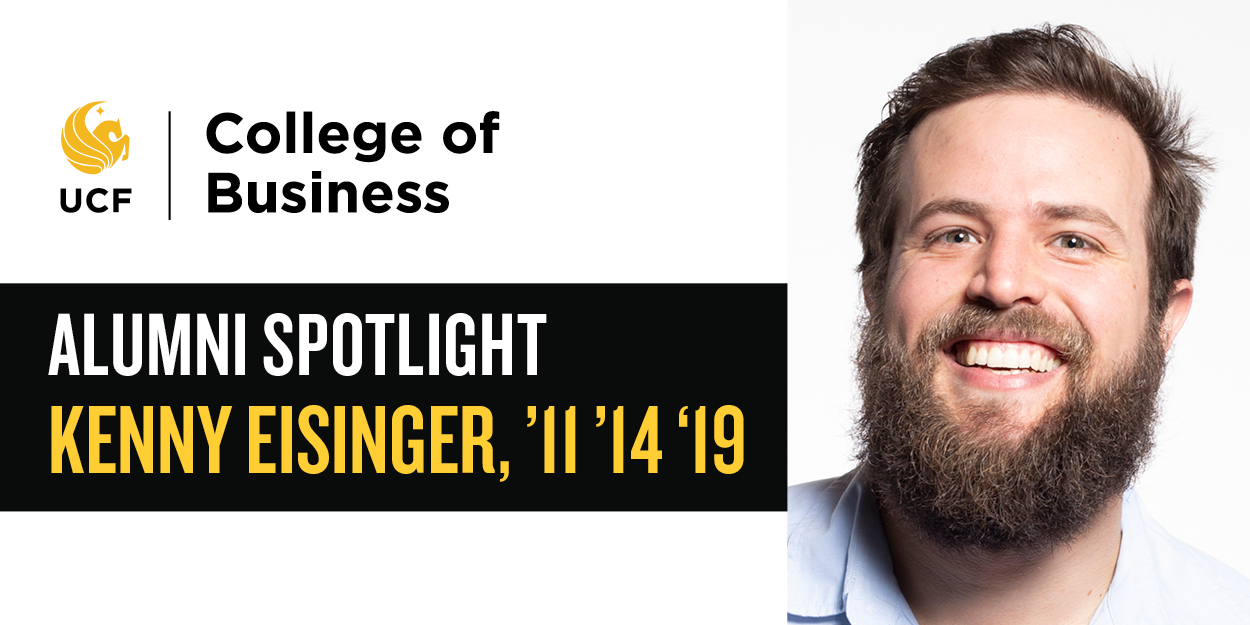 Three-time Knight Kenneth Eisinger started his career at Net Conversion in Orlando as an intern while he was finishing his undergraduate degree at UCF. Ten years later, he's still with Net Conversion only now he's the manager for paid media analytics and has two more UCF degrees under his belt, including a Professional Master of Science in Management, Business Analytics Track. In his current role, he uses business analytics to help companies ranging from local theme parks to national casual dining brands get superior results through digital marketing.
Kenneth is our College of Business Alumni Spotlight!
Eisinger earned his first UCF degree in Finance with a minor in Economics in 2011. While working on this degree, he was the first employee outside of the owners to intern with Net Conversion, a digital marketing agency based in downtown Orlando. Net Conversion hired him full time after he graduated.
Eager to continue to learn and advance, he enrolled in the MBA program at UCF and graduated in 2014.
When UCF offered a new business analytics degree to serve a growing demand, Eisinger jumped at the chance to enroll and learn about advanced statistics, modeling and other techniques. Eisinger credits his bosses, Ryan Fitzgerald and Frank Vertolli, for offering to cover the cost of the program and making it possible for him to pursue his third UCF degree.
Eisinger said the business analytics program wasn't like anything he had experienced in his undergrad or MBA programs. The program was designed for full-time working adults who were smart, accountable and curious about data. His classmates had relevant experiences to go with their questions and all contributed valuable information to the discussions. Eisinger said it was a smart group that became very close.
The program also featured top faculty from the College of Business and the College of Engineering & Computer Science.
"Whether it was virtual office hours or if faculty came in early to meet with students or stayed until classes were over," Eisinger said, "they were excellent and always accessible."
Eisinger lists Drs. Liqiang (Eric) Wang and Chris Hollander from Computer Science among his favorite professors. "Dr. Wang was always so cheerful and wholesome. He was funny and just a really good professor," said Eisinger, noting he also enjoyed Hollander's Intro to Python class.
Thanks to the business analytics program, Eisinger says now he knows the business and statistics sides of the company and he's able to "understand the language of analytics and better manage those who speak it."
When he started the program, his boss told him to find the smartest people in his class and hire them. So he did just that, bringing two of his classmates to Net Conversion after graduation. Net Conversion, now with more than 50 employees, has an advanced analytics department that Eisinger's team works with often.
The three-time Knight says he isn't done learning and growing and that he might sign up for a class or two in the future. His passion for UCF goes beyond the classroom—he met his wife while a student here—and he enjoys giving back to the university that has given so much to him. Last spring he returned to campus as a panelist for the UCF Big Data Analytics Symposium and spoke to students about working in analytics.