By Kara Turey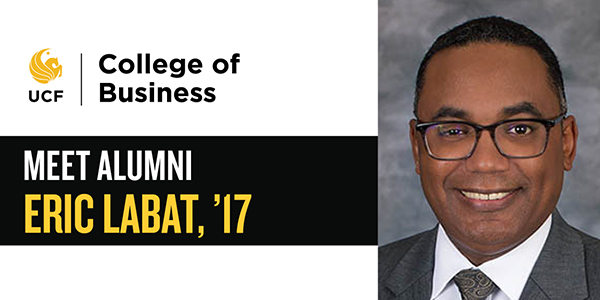 Earning a position as Senior Vice President of Business Marketing for Seacoast Bank upon the completion of the Executive MBA program (EMBA) from the UCF College of Business makes Eric LaBat '17 a successful UCF College of Business alumnus and our Alumni Spotlight.
Eric LaBat has not always been in the banking industry. Graduating with a Bachelors of Arts degree in Journalism and Mass Communications from Iowa State, his first job was with Xerox as an entry-level Marketing Representative. Before Xerox, LaBat thought he would work for a newspaper as a reporter, journalist, or at a television station. Unfortunately, the economy at the time was not very good in the Midwest and the positions were not going to pay the bills. After some soul searching, the position at Xerox was the door that opened for him and he found his love for the business industry. Since this position, he has worked in sales, marketing, business development, and business strategy roles throughout his career.
LaBat moved on to a few other positions and found that working in business strategy at Bank of America and GE, that he needed a more advanced education with a full understanding of the financial side of an organization. Most of his peers had advanced business degrees and his career goal was to be in the C-Suite one day. This is a position as a CFO, COO, CEO, or CIO. Even though he was working for Bank of America in Jacksonville at the time he wanted to earn his MBA, the program at UCF was the perfect fit. He spent 22 months driving from Jacksonville to Orlando on weekends to be a part of this program and never regretted it. When he graduated from UCF, he was offered a position at Seacoast Bank in Orlando. Almost two years of driving over four hours round-trip on weekends turned into an offer at Seacoast Bank and an Adjunct faculty position at UCF in the College of Business. He felt lucky for these opportunities and knows it is the business program at UCF and the hard work that opened the doors for him. "What I gained with the degree was not one, but two new career opportunities – UCF and Seacoast," LaBat says.
Collaborative, supportive, and engaging describes the class culture when he was in his EMBA program. He was fortunate to be in a cohort that was a very tight-knit group and supported each other through a tough program. LaBat feels that all of his professors were accessible at all times and made up a great department. Dr. Piccolo, the Chair of the Department of Management, taught one of LaBat's courses. "In UCF's EMBA program, Eric was a conscientious, thoughtful, and open-minded student," Piccolo says. "He was incredibly dedicated to his education as he drove from Jacksonville each week to attend classes at 8:00 am on Friday and Saturday mornings. Among his peers, Eric was regarded as patient, practical, and wise. No matter the topic, Eric made contributions to class discussion, engaging his peers with openness, care, and credibility. He was also able to enhance the learning environment by providing insights from his own personal and professional experience. These qualities translate easily to his success in banking and as an instructor in UCF's PSP program."
When LaBat is not teaching or working, he enjoys volunteering his time. Through Seacoast Bank, he volunteers with the Orlando Economic Partnership. The annual day on Capitol Hill is really important to him. He works with leaders from all industries to lobby the federal representatives for initiatives that improve the economic lives of Central Floridians. He also is a UCF EMBA mentor and participates actively whenever he can to help the university. Lastly, he has not forgotten about his alma mater, Iowa State. Having served as an alumni ambassador in the past, he hopes to be able to do this again one day in the future.
Why did you choose to attend UCF?
After researching online versus face-to-face cohorts, big versus small, average cohort experience and age, I realized the Executive MBA was the best path for me. Then it was about the right program at the right cost. UCF fit the bill.
How has UCF helped in your career?
As a marketer at a financial institution, I work with finance wizards every day. To be able to understand their language, their KPIs and the impact on the business and to drive my marketing strategies in a way that will address both accounting and Financial Planning and Analysis has made me better and improved my credibility as a marketer that "gets it" has been enormously valuable. Most marketers are not highly regarded in finance circles so be sought out for advice is amazing and something I owe to the knowledge I gained at UCF.
What do you like about being an adjunct at UCF?
Prior to quarantine life, I loved being in the classroom and interacting directly with students. I work really hard at bringing a career's worth of reality and insight into an academic environment. So far, three years in, students seem to respond well. It feels like I'm really making a difference for some of them.