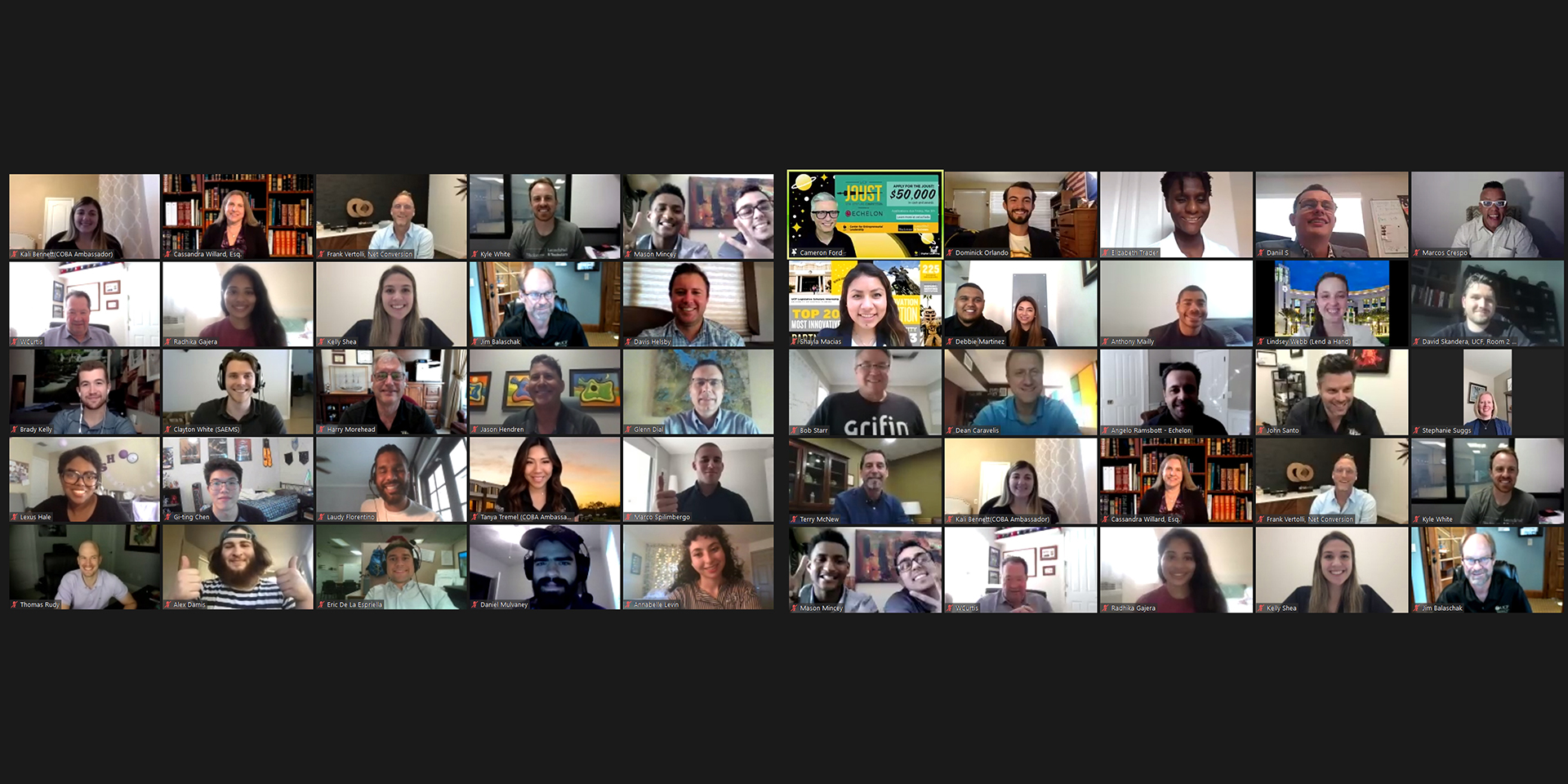 In a business proposal showdown for $50,000 in cash and essential services, four student teams will deliver their best pitches to a panel of seasoned judges at the finals of the Joust New Venture Competition Thursday, April 8 at 3 p.m. The event, presented by Echelon, is open to the public and will take place via Zoom.
Advancing beyond a roster of 16 semifinalists, the four teams moving on to the finals are:
Soarce (Mason Mincey): Soarce provides leading clothing brands with innovative tactics to offer high performance clothing that is environmentally friendly. The company aims to derive high-quality textiles from plant waste.
Leaklock (Kelly Shea): The Leaklock is a small gadget that prevents pump-type bottles from spilling while in storage. The gadget's square design secures around the shaft of a pump bottle to block the escape of liquids and prevent product waste. Leaklock also aims to market the product as a child-proofing mechanism.
Connecthedocks (Davis Helsby): Connecthedocks is a multi-sided, online platform designed to serve as the AirBNB of dock rentals. By targeting both dock and boat owners, Connecthedocks plans to alleviate the hassle of trailering and provide income streams to waterfront owners.
Wallagio (Marcos Crespo): Wallagio provides high-impact, removable interior wall decorations that save space, are easily installed and can be safely removed. Wallagio plans to target apartment renters, college dorms, homeowners and small businesses with décor that makes a bold statement, adapts to changing preferences and is cost effective.
"It has been a tough 12 months and I have never been as proud of a group of students as I am for this year's Joust competitors," said Dr. Cameron Ford, director of the UCF Center for Entrepreneurial Leadership. "I'm pleased that so many students have remained engaged at the Blackstone LaunchPad and in UCF's entrepreneurship community, particularly during such a trying time in the middle of a pandemic. The high-quality ideas and substance behind these ventures are simply off the charts."
"We are proud to continue this partnership with UCF and provide students with the opportunity to develop innovative new ventures," said Lou Lentine '93, CEO at Echelon Fitness Multimedia and a UCF College of Business graduate. "I'm a believer in the exciting startup community that UCF has built. Naturally, I welcomed the chance to return to my alma mater to support the next generation of student entrepreneurs."
The Joust New Venture Competition presented by Echelon is UCF's premier startup showcase event, hosted by the UCF College of Business's Center for Entrepreneurial Leadership and featuring students of all majors. Competitors present their models for a viable business venture and compete to win money and other vital resources to pursue their venture. The Shark Tank-style event celebrates student entrepreneurs, introduces them to community leaders and provides key resources to help launch their ventures. The Joust is open to all UCF students and all types of venture proposals.
A panel of expert professionals representing corporate partners, area businesses, and alumni assesses the students' business plans. This year's presenting sponsor is Echelon. Supporting sponsors include 321 The Agency, BDO, Blezoo, Burr & Forman, Insurance Office of America (IOA) and Nperspective LLC.
About the UCF College of Business
Established in 1968, the UCF College of Business offers degrees at the bachelor's, master's, doctoral and executive levels. All programs, as well as the Kenneth G. Dixon School of Accounting are accredited by AACSB International – the Association to Advance Collegiate Schools of Business. The college provides high-quality academic programs designed to give students a competitive advantage in the world of business now and in the future. Learn more at business.ucf.edu.