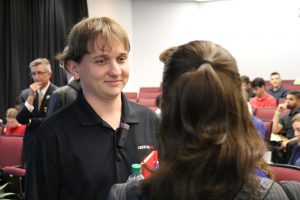 ORLANDO, Fla – Justin Wetherill, '07 began tinkering with technology as a child. When the accounting student broke his smartphone in 2009, he found himself at a crossroads of either fixing it himself, or finding a professional. In the early days of smart devices, finding a technician to repair a cell phone was no easy task.
"At the end of the day, the convenience and price offered by the market didn't line up with my expectations so I decided to do it myself." said Wetherill. The decision marked a turning point for Wetherill and encouraged him to create a first-of-its-kind cell phone repair business.
Fast forward to 2018 and there are more than 400 uBreakiFix store locations generating about $150 to $175 million in revenue. According to Wetherill, taking advantage of every resource offered at UCF contributed to his success as an entrepreneur.
Charge on Justin!