MAY 31, 2018
Effective strategies guide companies to a unique high-value position in their market. This leads to a competitive advantage for the companies.
Today's business environment poses unique challenges to traditional methods, and dynamic strategies must be developed and implemented. The Applied Strategy workshop developed and led by Dr. Robert Porter draws together the most important factors needed to analyze, formulate, and effectively lead the implementation of business strategy. You will be exposed to strategic planning methods that work—giving you the opportunity to walk-away with the toolkit you need to gain and sustain a competitive advantage.
WHO SHOULD ATTEND
Mid-level and senior managers, executives, or those transitioning into managerial roles across functional areas including, but not limited to operations, R&D, engineering, finance, marketing, HR, across all industries who influence the strategic direction of their firms
Small business owners developing and streamlining their strategic plans
KEY BENEFITS OF ATTENDING
Appraise your firm's competitive strategic position in the market
Learn practical methods to analyze your competition
Discover how to develop a strategic plan for your organization
Acquire the best tools for strategy implementation
Earn 6.5 HRCI credits and 0.8 CEUs
Effective Strategy is Realized Through Effective Leadership
---
Instructor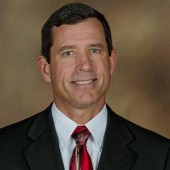 Robert L. Porter, Ph.D., is an accomplished leader in business development and implementing strategic leadership. He earned his Ph.D. at UCF's College of Business Administration focus on Entrepreneurship and Strategy. He is the Executive Director of the UCF Executive Development Center and he regularly teaches in UCF's Executive & Professional MBA programs. Prior to joining academe, he enjoyed an illustrious career with General Electric, NCR Power Systems, and AT&T, along with numerous start-ups and entrepreneurial ventures. He also was Chief Operating Officer and member of the organizing team that founded and then successfully sold a community bank.
Workshop Overview
Thursday, May 31, 2018
8:30 a.m. – 5 p.m.
Introductions
Strategy Defined
How You Should Measure Your Competitive Advantage
Strategic Leadership Process (SLP) Overview
Analysis – The Foundation of a Successful Strategic Plan
Formulation – Plans to Tailor Your Value Chain
Implementation – Putting the Plan Into Action
Strategic Leadership Process Summary
Strategy Case – Netflix
Summary and Q&A
Testimonials
"The UCF Strategic Leadership class provided me with techniques to improve my strategic thinking of complex relationships between the organization and its environment."
"Finally, a professional development class that taught how to put the learned tools into practice!"
"Prof. Porter is a great teacher and brings an incredible amount of real-world experience to the classroom."
"Just entering into a new franchise and the tools I received from this course have helped me check off some boxes and shift some resources."
---
Stay Connected
Thank you for your interest in the UCF Executive Development Center and our programs. Subscribe to our monthly e-Newsletter to receive details about upcoming programs, executive education faculty and special events.
Select the Program(s) you would like to learn more about. — Hold down the "Ctrl" key to select more than one.
General Executive Education Interest
Open Enrollment Workshops
Custom Programs
International Residencies