UCF Awards 300,000th Degree to Outstanding Accounting Student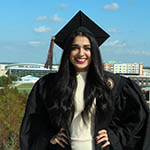 About six years ago, a trip to the University of Central Florida campus to visit her older sister convinced Kamila Pervaiz she wanted to be Knight. On Saturday, the younger Pervaiz crossed the stage to receive her accounting degree. It was the 300,000th degree awarded by UCF.
President John Hitt and College of Business Dean Paul Jarley awarded the milestone degree to Pervaiz and paused to celebrate the special moment in UCF's history with a photo opp. About 5,400 students took part in graduation ceremonies at UCF this past weekend.
Pervaiz said she owes her sister Shanzay, a 2015 public administration graduate and the 2014 UCF Homecoming Queen, for helping her find her path to UCF and for driving her to succeed.
"My sister is my biggest inspiration. If there is anyone that pushes my boundaries and tests my limits, it's her," Kamila Pervaiz said. "Shanzay is one of the most hard-working and passionate individuals I know and I strive to attain her work ethic."
The tight-knit sisters were raised in south Florida, where they developed a strong friendship beyond the usual sisterly bond. Pervaiz said she knew she wanted Shanzay to play a part in her college experience–not just as a family member or friend, but as her motivator to success.
The younger Pervaiz sought to make her sister proud by compiling her own long list of accomplishments from being named Kappa Delta sorority's Academics Excellence Chair and attending an alternative break program with Volunteer UCF renovating houses for Habitat for Humanity to becoming a Senator for the College of Business and serving as a member of Beta Alpha Psi, an international honor organization in accounting and finance.
"Both UCF and the College of Business have instilled different values and skills I will forever use in my professional career. I now possess the skills to help me achieve success in my future endeavors," said the Los Angeles-born American-Pakistani Muslim. "The most valuable skill I have learned is the power of networking and constantly expanding your circle of connections."
Through recruiting events and the Career Expo at UCF, Pervaiz landed a student internship with Grant Thornton that led to a formal job offer as an assurance associate upon completing the Certified Public Accountant (CPA) exam.
Pervaiz said she had mixed feelings about graduation–sad to say goodbye to the university that has given her so many opportunities, but ecstatic to begin the next chapter in life.
"UCF has given me so much throughout the years. Each failure and each success I've had has impacted my life and helped me grow into the person I am today," the 22-year old said. "I would not be the person I am today if it wasn't for the experiences I've had here and I cannot thank this university enough for giving that to me."