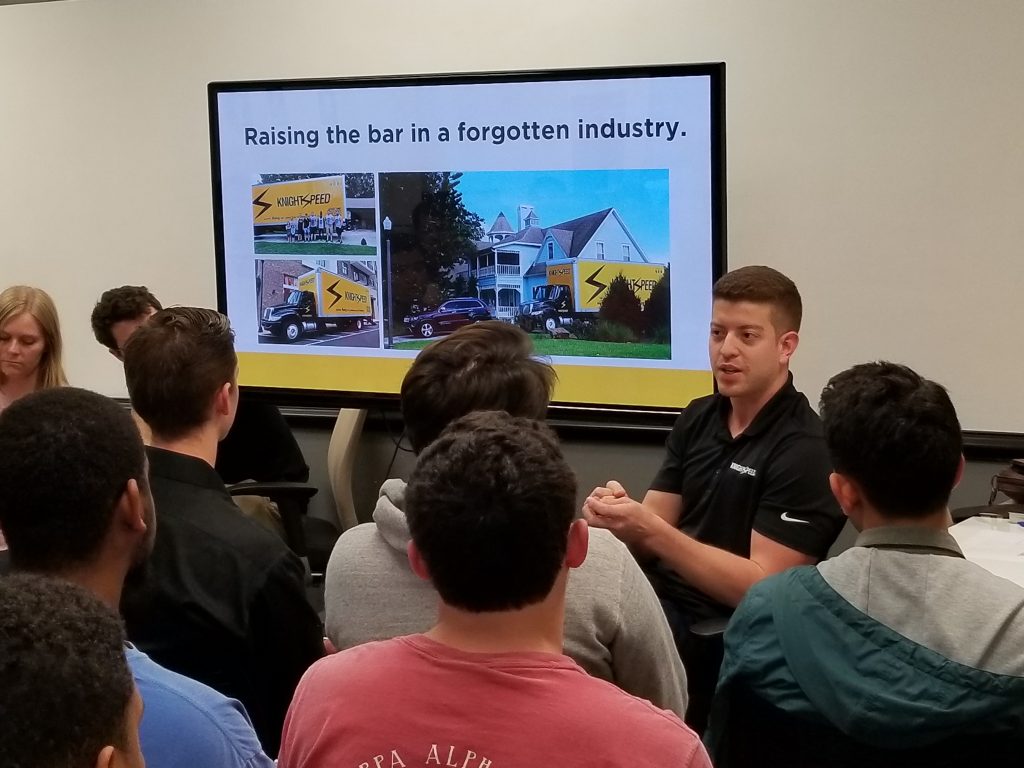 ORLANDO, Fla. – UCF alum Julian Correa's failed business ventures outnumber his prosperous ones, but in his eyes, that's a major key to his success.
"I think failure is essential to learning. Without failing, you can only read about how to do things," said the founder and CEO of KnightSpeed Moving, a moving, packing and labor services company, speaking to students last week at the Blackstone Launchpad at UCF.
It was more than a speaking engagement for the 25-year-old – it was a homecoming. As a then-College of Business student studying finance, Correa met his business partner and co-founder through CEO Knights, the student organization sponsoring his talk, and made frequent visits to the Blackstone Launchpad to get help planning his business. The Blackstone LaunchPad offers entrepreneurial coaching services to students as well as a place for them to study, critique and refine their ideas.
"As a UCF student, you have unlimited resources and people who just want to help you," Correa told the students. "You should reach out to people in your community who have achieved that level of success that you want."
When he established KnightSpeed Moving in 2013, the company fielded about three moves each week in east Orlando. Today, KnightSpeed Moving operates two locations and handles about 12 moves a day. To Correa, the success of his company lies in the positive experience his team strives to create.
"It doesn't matter what it is you are doing. If you provide a good service and people can get behind it, it will eventually succeed," he said. "But it isn't always easy."
A few months after starting KnightSpeed Moving, the company was beginning to flourish, but Correa realized he was hungry for a new challenge. So in 2014, he founded a new company called KnightSpeed Parking. He quickly realized his latest idea was not profitable and both businesses began to suffer. Adding to his responsibilities, the full-time CEO accepted a new job in 2015.
"I spread myself too thin. I ended up failing with the parking business completely and had to shut it down," Correa said.
The setback became an eye-opening experience for Correa. He left his job in 2015 to run KnightSpeed Moving full time. The decision allowed the company to expand its reach. No longer focused on the student population, KnightSpeed transitioned to a general moving company that also handles office moves and trade shows. In 2016, KnightSpeed purchased its first moving truck after years of using rental services.
"We turned this company into a full-on movement," he said. "KnightSpeed is more than just a moving company."