Welcome to the Majors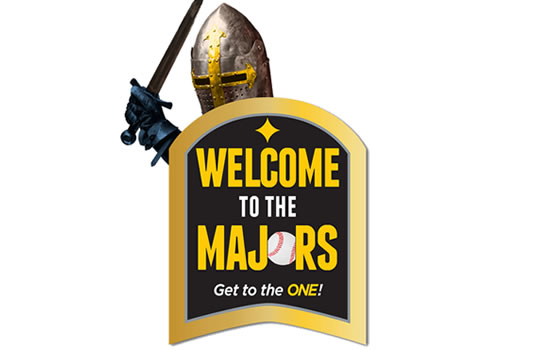 Join us to hear Seth Godin, a visionary author and speaker, as part of the UCF College of Business Welcome to the Majors.
WILL YOU BE…
THE ONE that gets the job.
THE ONE that makes that sale.
THE ONE that starts the new business.
THE ONE that mentors and gives back.
Thank you for registering for GEB 3003 – Career Research and Planning. Classes in the Career Professionalism series are different from traditional large classes in a number of ways, such as:
Focusing on practical skills rather than concepts and topical knowledge
Self-directed; your success depends on your ability to take ownership of your performance
You have to come to class!
For students in GEB 3003, Welcome to the Majors is your first class meeting so is mandatory. For other students, Welcome to the Majors is your opportunity to continue to build your network. Prior to attending, you must review your syllabus and assignments. Unlike some of your other courses, we will not be doing this in class (class materials will be available through WebCourses). Instead, you will be attending the college's signature event, "Welcome to the Majors," which this semester features Seth Godin, marketer, entrepreneur and bestselling author of Linchpin, Tribes, Purple Cow and many other books.
Welcome to the Majors is for all students entering the UCF College of Business and we have chosen to make it your first class in GEB 3003 as well. In a sea of thousands of candidates, employers are looking for people who can present themselves as a unique option. Not only will you be introduced to the culture of the college, you will have the opportunity to network with Dean Jarley, faculty, student leaders and classmates.
We also would encourage you to complete the survey located under the registration button. As a part of our effort, we are trying to help you "Get to the ONE" and make the most of the life and career you are planning. The survey will help Dean Jarley illustrate that point and our team better understand and serve your needs.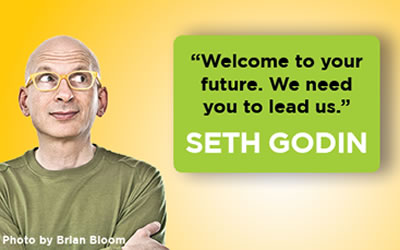 Seth Godin
is the author of 18 international bestsellers that have been translated into over 35 languages, and have changed the way people think about marketing and work. You can find his blog by typing just 'seth' into Google. It's the most popular marketing blog in the world. It spent several years in the top 2 of the Advertising Age Power 150, a comprehensive barometer of industry blogs. Unleashing the Ideavirus was one of the most popular e-books ever published, and Purple Cow is the bestselling marketing book of the decade. Tribes was a nationwide bestseller, appearing on the Amazon, New York Times, BusinessWeek and Wall Street Journal bestseller lists. Godin has spoken to millions at public events (twice at the renowned TED Conference) and at companies such as Disney, Cadillac, eBay, Google, Amazon, Microsoft, Adobe, American Eagle and Eddie Bauer.
The first day of class will be Friday, August 28, at the CFE Arena and will begin at 10 a.m. sharp (doors open at 9:30 a.m.; iPad Mini drawing is at 1:00 p.m.)

| Time | Event |
| --- | --- |
| 9:30 a.m. | Doors Open |
| 10:00 a.m. | Seth Godin |
| 11:10 a.m. | Meet & Greet |
| 1:00 p.m. | Giveaway (iPad Mini) |