Professional MS in Management – Business Analytics Track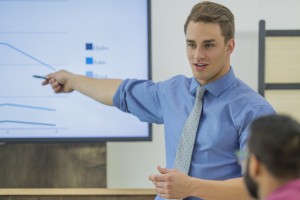 Advance your quantitative and technical skills as well as expand your strategic thinking and business management skills.
UCF Professional MSM Business Analytics Early Application Deadline April 15
 

| Starts | Credits | Cost | Length | Location |
| --- | --- | --- | --- | --- |
| August 2017 | 30 credit-hours | $30,000 | 20 months | UCF Downtown |
Early Application Deadline: April 15
Final Application Deadline: July 1
The UCF Professional Master of Science in Management-Business Analytics Track provides students with the specialized skills necessary to respond to challenges of the new data intensive business world of today.  The program provides the bridge between data collection and application for business problems and decisions, and the skills learned are transferable across industries. Students become business analysts skilled in the collection, management, analysis, interpretation and application of data to aid in more informed and successful business decisions. Skills learned in this degree are applicable across industries and organizations whether they are large or small, for-profit or non-profit.
"Corporate America has become extremely reliant upon data in order to make better decisions in this dynamic economy. The demand for executives professionally trained in the discipline of business analytics has never been greater.  The University of Central Florida Master of Science in Management with a Business Analytics Track will provide the business community with the level of trained analysts necessary in order to successfully meet the demands of our ever evolving economy." Alex Martins, Chief Executive Officer, Orlando Magic
Program Overview
This 30-credit hour, 10 course curriculum introduces students to the main quantitative methods and software tools of business analytics, a subfield of data science, namely, those used in numerical, optimization, simulation, and statistical methods.  Designed for those interested in using quantitative methods to uncover economic relationships, to construct predictive models, and to communicate business intelligence, the curriculum provides students with the knowledge necessary in making informed business decisions.
Specifically, students will learn how to acquire, organize, manage, and analyze data.  In addition to gaining experience with software tools commonly used in industry (such as UNIX, SQLite, Python, and R), students will also be instructed in using commercial software (such as SAS) to train, validate, and test empirical models.  Through a combination of case studies, hands-on lectures, and group projects, students will gain valuable experience in using quantitative methods to solve business problems.  The program culminates in an applied field project that uses these methods and tools to solve a non-trivial business problem.
Program Schedule
The PMSM-Business Analytics Track is a 20-month program that meets Monday and Wednesday evenings from 6:00 p.m. to 9:50 p.m., allowing the busy professional to work full-time while earning this degree. Classes are held at the UCF Executive Development Center's state-of-the-art facility in downtown Orlando.
Who Should Apply
Ideal candidates for this degree are students with an understanding of statistics and quantitative methods, but come from a variety of degree fields such as business, economics, finance, statistics, information systems and engineering.
Applicants for the PMSM/Business Analytics program are encouraged to attend an information session to gain a complete understanding of the program format, requirements, and learning objectives. Applicants are recommended to have successfully completed undergraduate coursework in college algebra, microeconomics, macroeconomics, statistical methods and calculus.
Please follow the link below for our suggested foundation core on-line modules in economic and business statistics.
Foundation Courses for PMSM Business Analytics
Investment
The UCF PMSM – Business Analytics Track is a market-rate program with a $30,000 investment which includes 30 credit hours, laptop computer, analytical software, financial calculator, Wall Street Journal subscription, parking, and lifetime UCF Alumni membership.