Effective Negotiation Executive Education Workshops

Program Overview
To negotiate successfully in today's dynamic business environment, you need more than just persuasive tactics at the negotiating table. Join us for Effective Negotiation: From Detailed Planning to Exceptional Results, our interactive two-day workshop led by Dr. Maureen Ambrose, Gordon J. Barnett Professor of Business Ethics, UCF Department of Management, and learn how to achieve outstanding results in any negotiation. Participants will develop a framework of comprehensive principles, strategies, and tactics that will help them prepare and execute negotiation deals in a variety of settings and industries.
KEY BENEFITS OF ATTENDING
REALIZE your full potential as a negotiator
EMPOWER yourself with the latest strategies in negotiation
UNCOVER your strengths and weaknesses as a negotiator
LEARN a systematic approach to negotiation that you can apply immediately
ACHIEVE better outcomes in future negotiations
EARN up to 16 CLE, 12 Business Litigation, and 13.25 HRCI credits
WHO SHOULD ATTEND
Negotiation is crucial in all organizations and virtually every aspect of life. This program is designed for senior-level executives from private, public, and non-profit sectors including:
CEOs, CFOs, and COOs
Presidents and Vice Presidents
Attorneys, Arbitrators and In-House General Counsel
Sales, Marketing and Business Development Personnel
Human Resource, Purchasing and other Functional Directors and Officers
Lobbyists, Fund Raising and Development Officers
---
Program Content
Day 1: Tuesday, April 28, 2015, 8:00 am – 4:45 pm
Assessing Your Negotiation Style: Bargaining Style Inventory, PINS
Hamilton Real Estate:  Introductory simulation role-play negotiation in which the buyer and the seller are negotiating over the price of a property.
Discussion/Debrief Hamilton Real Estate and Negotiation Basics: A framework for conceptualizing negotiation, A discussion of opening offers, targets, and objectives
The New Recruit: A two-party, multi-issue negotiation in the context of job negotiation.
Discussion/Debrief New Recruit and Introduction to creating value
Creating Value: A framework for value creation, A discussion of the power of interests, differences, questions, and packages, Strategies for creating value
Networking Reception
Day 2: Wednesday, April 29, 2015, 8:00 am – 4:45 pm
Negotiation Planning: Introduction of a framework for planning for negotiation.
Planning Exercise: Application of negotiation planning skills.
Sally Soprano – Two-party, multi-issue negotiation between agents for an opera singer and an opera house regarding a possible contract for an upcoming production.  The simulation provides an opportunity for exploring value creation and value claiming.
Preparation for multi-party negotiation exercise.
Twin Lakes Mining: A complex multi-party, multi-issue negotiation between a mining company and the government of a small town regarding environmental clean-up.  The simulation provides an opportunity for information exchange, value creation, value claiming, and introduces inter-team and intra-team dynamics.
Multi-party negotiation exercise and debrief.
Workshop Summary and Q&A session.
Download detailed workshop agenda
---
About the Instructor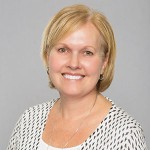 Maureen L. Ambrose, Ph. D.
Maureen L. Ambrose is the Gordon J. Barnett Professor of Business Ethics in the College of Business at the University of Central Florida. She received her Ph.D. from the University of Illinois. Prior to joining UCF, she served on the faculty at the University of Iowa and the University of Colorado, where she was also Director of Research for the College of Business. Her research, which focuses almost exclusively on real people in real organizations, has been published in more than fifty articles and books. She has been a visiting scholar at the London School of Economics in the UK, EM-Lyon and the Université de Toulouse in France, and Instituto d'Empressa in Madrid, Spain. She has provided executive development programs in management, organizational behavior, human resource management, and negotiation to national and international firms and industry groups.
Past participant testimonials:
"After being part of the Effective Negotiation workshop, led by Dr. Ambrose, I genuinely feel positioned for more success in my current  role and in life. The workshop really drove home how to plan, claim, and create value, focusing on interests rather than positions, and was a wonderful overview of the fundamentals for effective negotiating. Thank you!"
– Gary Stafford, Partnership Director, Ultimate Staffing Services
"Dr. Ambrose's knowledge and delivery of the subject matter is second to none. I highly recommend this course to current and future negotiators."
– Sam Bevlin, VP of Operations, Outsource, Inc.
---
Registration Options
Program Fees
$950 for one participant ~ early-bird pricing of $850 available until March 27, 2015.
Enrollment includes two days of highly interactive sessions, all course materials, plus breakfasts, lunches, refreshment breaks, and adjoining parking. The program will be held at the UCF Executive Development Center, 36 West Pine Street, Downtown Orlando.
Get 10% off for 3 or more attendees from the same organization and 20% off for 6 or more attendees from the same organization. Use coupon code 3ormore10% or 6orMore20% in our online registration system.
Discounts for UCF Alumni and UCF Faculty members available.
Please call us at 407-235-3903 for details and to register over the phone.
Registration Options
Click HERE to register online.
Call (407) 235-3903 to register over the phone.
Mail the registration form  & check payable to:
UCF Executive Development Center 36 West Pine Street, Orlando, Florida 32801
Cancellation Policy
All payments must be received in full two weeks prior to the program start. UCF will grant an 80% refund for cancellations made two or more weeks prior to the start of the program. For cancellations made within two weeks prior to the start of the program, a 50% refund will be granted. There is no refund if you withdraw after the start of the program. Substitute participants will be accepted up to the start of the workshop.
DRESS CODE:
The dress code is business casual, jeans are welcome. Our meeting rooms can be very cool, so you may wish to bring a light sweater or jacket.
---
Parking and Accommodations
Parking
We have arranged FREE PARKING for conference participants in the 55 West Garage (click here for directions). For UCF's EDC to validate your parking, you must park at the55 WEST GARAGE, which is located directly next door to the UCF Executive Development Center on Pine Street (a block east of Interstate-4 and just to the west of the EDC). Entrance to/exit from the garage is via West Pine Street (again, please see directions). We recommend parking on the 4th or 5th floor of the garage, taking the elevator down, then exiting to the right. Pine Street is just a few steps away. Take a right, and UCF's EDC is immediately next door. Please note that we will validate your parking each day via stickers available at our front desk.
Accommodations
Hotel accommodations are not included in the registration fee.  We recommend the following hotels in walking distance from our Center.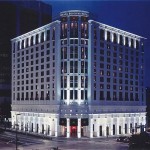 Grand Bohemian Hotel – Downtown Orlando
325 S. Orange Ave., Orlando, FL 32801
Phone: (407) 313-9000
Website: www.grandbohemianhotel.com
---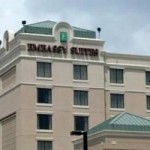 Embassy Suites Orlando
191 E. Pine Street, Orlando, Florida 32801
Phone: (800) 809-9708