College of Business, Foundation Welcome New Executive Director of Advancement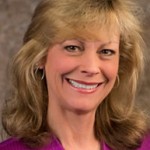 ORLANDO, Fla. – UCF College of Business and the UCF Foundation welcome Susan Glenn as Executive Director of Advancement at the College of Business. Glenn's focus will be on gift strategies and solicitations to create successful fund-raising outcomes from alumni and community partners to help aid student scholarships, grow faculty professorships, update and build new facilities and expand academic programming.
"With Susan's strong leadership skills in campaign execution and strategic planning for higher education, we are in good hands," said Paul Jarley, Ph.D., Dean, UCF College of Business. "Susan gives us the opportunity to develop ways to maximize the impact of major gifts from current and future donors."
Glenn, who joined UCF on Aug. 1, will play an integral role in the Sept. 16 launch of the IGNITE campaign, a $500 million fund-raising effort, the largest in university history.
Most recently, Glenn served as the Vice President and Chief Development Officer at Rock Valley College Foundation in Rockford, Illinois. She was responsible for all aspects at the foundation, including major gifts, annual programs, planned giving, communications, alumni relations and special events. She previously served as the Executive Director of Planning and Development at Duke Children's Hospital & Health Center where she lead a $150 million campaign. She also worked for the Duke School of Nursing and her alma mater Northern Illinois University, as well as Lewis University in Romeoville, Illinois, and other major medical center foundations.
"The College of Business and UCF have an excellent reputation, and I am ecstatic to be joining the team," Glenn said. "I look forward to helping fulfill Dean Jarley's vision for the 'next-generation business school' through our fundraising efforts."
Learn how you can get engaged with UCF College of Business.